Last week, we visited a large aviary that we hadn't been to in awhile. The Bibliophile loved it (he insisted we should visit every day from now on. Every day? Yes. Every day. At 9:00. He was quite specific). I decided to take advantage of his enthusiasm to do some educational activities. I'm not sure how useful these ideas will be for other families, but they are very typical of the way we do things around here lately, so I wanted to share them.
He went with his Dad to the library and I suggested they get a relevant book. I think this is the one they chose; it is in the other room and I find myself trapped under a sleeping baby. We haven't read much of the text yet, but it includes photos of many different birds, so it has been serving our purpose well.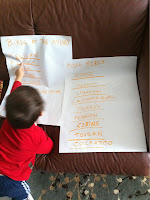 I took a poster-sized sheet of paper and labeled it "Birds of the Aviary," and wrote the first letter of many different birds we had seen there. He guessed (with hints on some) all of the birds and we wrote them in. He asked for a second sheet for me to write more, so I labeled that "Other Birds," and we named birds we knew outside of the aviary.
Once our lists were done, he decided he would point to a bird and I should make the noise of that bird. I used YouTube on the iPhone to look up bird calls as he pointed to them and we imitated them together. (Later, I downloaded a free iPhone app called AnimalChatter that also has free bird calls).
Next, we looked through his book together and called out birds we saw from our list and then other birds not on our list.
We played with our
Audubon stuffed animal birds
. I love these! We included his baby sister in the fun. (They make accurate bird calls when squeezed. We have a
purple finch
,
Kirkland warbler
, and
Northern cardinal
).
We took out his world map, and read the little tags on the birds that show where they are native to and their migration patterns.
Then he decided the map would make a nice slide for the birds.
I suggested he "pretend migrate" places. This has come in handy when we want him to go somewhere without fussing ("Time to brush your teeth. Hey, how about you pretend migrate there!").
The next day, we did this
word unscramble with bird names
, and a penguin activity sheet with our
do-a-dot markers
. I almost got him to agree to make a craft nest with me, but he changed his mind.
For other books about birds, see our
previous reviews here
.
I am linking this post up with
Weekly Wrap-Up
,
Preschool Corner
, and
Tot School
.

Comment! Do you have a favorite type of bird, bird craft, or book featuring any fine feathered friends?
Disclosure: if you click on any link on this site and purchase anything, I may earn a small commission through my affiliate relationship with Amazon.com.