I've been wanting to make little yarn bowls over balloon molds for ages, but 1) I didn't have any balloons and 2) I kept thinking that the balloons would just be distracting for 2-3 year olds. Oh, and 3) the idea of popping the balloon mold makes me cringe. I read a reference to using plastic wrap instead. I wasn't sure if it would work, but we made them on our alphabet-themed playdate this week (N for nest), and they worked beautifully!
Supplies:
Small plastic bowl (as mold)
Another small bowl for glue
Yarn, cut into 5 inch pieces (about 30 pieces per bowl)
Glue (I watered it down a little because I was running out)
Saran wrap
Optional - cotton balls, bird sticker (jelly beans would work too)
Turn over a small plastic bowl, open side down, and cover it with plastic wrap. I added a piece of duct tape inside so curious toddlers wouldn't pull the plastic off.
Pour glue into a little bowl. Water it down a little if you'd like.
Drench yarn pieces in glue and smooth them onto the plastic wrap. Make sure the kids criss cross the yarn. Go halfway down the sides of the bowl with yarn.
Let dry for 18-24 hours.
Carefully remove yarn from bowl and pull away the plastic wrap.
Embellish with cotton ball eggs and a bird sticker, if you have it. Or fill with jelly beans for an Easter treat.
The Bibliophile doesn't usually like messy activities, but he was quite enthusiastic to do this one. Paper mâché here we come! But first I need to buy more glue.
Related books:
We compiled a huge
list of 75 Easter books
here. And these also come to mind:
I'm linking this post up with A
Crafty Soirée
and: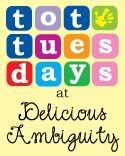 Disclosure: If you click on any links in this post and purchase anything, we may earn a small commission through our affiliate relationship with Amazon.com.