Today's lunch was a big hit!
A sandwich shop:
From left to right: rice cake pieces, turkey, daiya dairy-free cheese, avocado spread, more rice cakes, (real) bacon bits, potato chips.
This turned into "how many different kinds of sandwiches can we make?," all of which he ate!
Dessert later: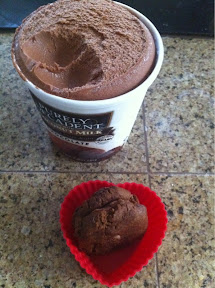 Ice cream sandwich (enjoy life double chocolate brownie cookies and coconut milk based chocolate ice cream).
Later he asked me to refill his cups with these ingredients to make more "sandwiches."
Freeze dried bananas, sunbutter, crispix cereal, rice cakes.
Not a bad lunch for a kid allergic to 10+ foods, including dairy wheat, and eggs!
Comment! What are your favorite strategies for feeding picky toddlers?
I am linking this post up with
Muffin Tin Monday.