Because I would have perished if I heard "now what should we do?" one more time today. So when he grabbed a pack of straws from the cupboard and asked me to open them, I told him I had some ideas.
We finally tried straw painting (blowing air through the straw to swirl paint).
Then we pressed coffee filters onto it to make designs (that looked like our salad spinner art - the bibliophile's all time fav craft).
Then we attached straws together to make a long silly straw, and the bibliophile folded it into an M. (No photos).
Then the he insisted he create this mixed media masterpiece: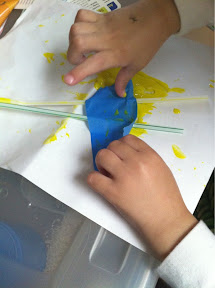 Then we tried weaving (which tied in nicely to his beginner sewing project this week with a plastic needle, yarn, and gridded rubber drawer liner).
Whew, that all occupied him for at least 20 minutes.
Now what should we do?
- Posted using BlogPress from my iPhone