We attended a museum-run day of learning activities around the topic of water (part of a monthly series) today. I'm really impressed with these events. This was just one of the stations - a water wheel project.
I took a photo of the instructions, in case any of you want to try making one - totally doable with dixie cups, paper plates, tape, and a dowel. (Can you actually read these?).
Instructions:
The Bibliophile's wheel:
In action!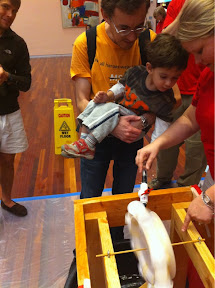 You can do this in your yard with a hose sprayer or watering can. The water goes in the little cups and spins the wheel.
Fun!
I will be linking this post up with
Science Sunday
.
- Posted using BlogPress from my iPhone