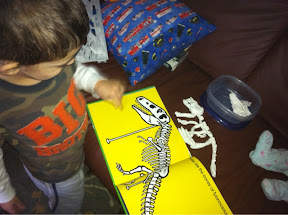 I picked up many dinosaur books at the library this week, but for some reason, attention spans seemed short (mine and his!). The book that got the most attention was one by Byron Barton.
Bones, Bones, Dinosaur Bones
is simple enough to tackle the attention span issue, but we enjoyed it, particularly
when I broke out a tub of clay.
We used white
model magic
clay to make dinosaurs to match the ones in the book. (Play-doh is out for us, since it contains wheat). We squeezed in a little human anatomy - pointing out where the Bibliophile's ribs and spine are - and sharpened our powers of observation differentiating among the different dinos.
| | |
| --- | --- |
| Thicodontosaurus | Tyrannosaurus Rex |
| Parasaurolophus | Gallimimus |


These are the other dino books we will be working our way through this week:




I will link up with Science Sunday, Sunday Best, StART, and What My Child is Reading.

Disclosure: if you click on any of the links in this post and purchase anything, we may earn a small commission through our affiliate relationship with Amazon.com.